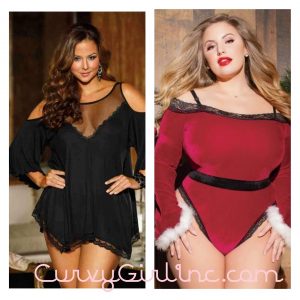 Yes – let's get sassy this holiday season! ! It is our turn to LOOK and FEEL sexy AF  for the holiday festivities! (Don't believe me? Watch the mainstream media! It is finally time for us rad fatties to get our time in the spotlight!) Just for you, we highlighted 7 very sexy looks that will fit babes who wear a size 14 to size 28. If you want to see more, feel free to browse our BRAND NEW website here.
#1  Diane Teddy – this red teddy is designed with OFF THE SHOULDER stretch velvet and faux trim. (This one is a Plus Size Queen and will fit bodies up so a size 22.) This could be fun for a night out or a Christmas Eve party in your own bedroom.  Designed by Coquette from their Holiday Catalog.  This will sell out quickly, so get yours while you can. $54 (Pictured here in the cover photo.)
#2  V-Plunge Red Tube Dress from Pink Lipstick.  This tube dress is scorching hot. Our customers LOVE this dress and all of the dresses from Pink Lipstick.  Their dresses are very stretchy and this one-size dress is describe as a 2 x (whatever that means) and we find it will fit babes size 12/14 to size 24/26 and it looks AMAZING on all body types.  $38
#3 The Sam Sleep-shirt is sexy and cozy.  The sheer mesh on the top adds some intrigue to this super soft cold-shoulder sleep-shirt.  Can we born in our out of the bedroom. Lots of our customers pair it with a skirt or leggings and wear it out on a romantic dinner or out with their friends. Very versatile.  $50  (Black dress in this cover photo.)
#4 The Toni Mesh Baby Doll is always a best seller and we love it because it fits our customers who wear a size 14 to a size 28.  EVERYONE loves the "Toni" because it is so soft, sexy, perfect fit, comes in two colors, a little bling and an extra long skirt to cover up your derriere, if you are into that kind of thing. (And, see the Chrystal which is very similar, but in purple.)  $65
#5 The Betty Diva Leopard Bustier is so fun! Animal print with an off the shoulder look. A bit of red trim, too. Removable straps and garters so you can wear it strapless and with or without thigh highs. (Did you know we sell thigh highs for thick thighs? They are called Kixies.  Link here to thigh highs that work on thighs up to 36″ around.)  $70
$6 Alexis Baby Doll is oooh la la luscious! Peekaboo bra, but if you are more demure, you can keep your breasts covered up, too. We adore the Coquette designs because their 3x/4x fits our customer who wear up to a size 26/28. Their designs are very contemporary and their quality is fabulous, too.  $55   This will sell out quickly, so get yours while you can.
#7 Margaret Baby Doll with gold chain detail.  This baby doll also has a gold chain G-string that matches the gold chain detail on the neck line.  Such a unique piece for special occasions and we love this wine color. So sophisticated and sultry. Watch your lovers face light up when you rock this sassy lingerie.  $36
If you are buying lingerie for your lover or friend, I wrote this blog with tips for how to shop for a woman of size.  It requires some snooping on your part if you want to surprise her with a Hanukkah, Christmas or New Year's Eve gift.  My 6 Tips for Shopping for her is here.
And, yes, please check out our brand new website here so you can see more of our full-figure lingerie. And, be sure to email us if you have questions about sizing.  You can email us via our contact page here:  www.CurvyGirlInc.com and choose the ASK CHRYSTAL option.
Be sure you join our FB community where we have over 450,000 members.  www.Facebook.com/CurvyGirlInc  or text us the word curvygirl to 22828 and become a Curvy Girl Insider. That means our newsletter will land in your inbox about 2 to 4 times a month. Thanks and happy shopping.


Comments
comments