We got a whole boatload of new lingerie in stock. I practically accost the Fed Ex and UPS guy each time they show up. We all LOVE it when the new stuff comes in. (And, if you want to help us get the word out about Curvy Girl, here are some ways you can help us reach the Curvy Girl communities out there.)
Here are a few examples of the new goodies we have in stock. And lots more coming in for the Black Friday 3 Day Weekend. We are stocking up for the occasion. We carry this chemise in black. We also have a garter belt and bra in this pretty color and in the nude and candy pink color.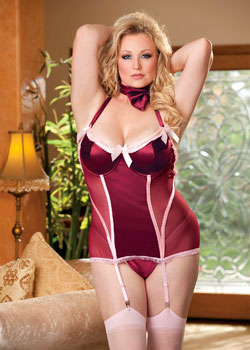 We also have a bunch of new bustiers in stock. We even brought in a camouflage bustier. A gorgeous red and violet bustier that comes with a bra inside. You can wear the bustier with the bra since it's a push up bra. But, you can also wear the bra by itself. So you get two for the price of one. 

The black corset in the post is a skull and cross bones corset. It's available in black or white and has been a great seller.

 This two in one red bustier is available in sizes up to a size 44. It's in plus sizes 40, 42 and size 44. (Bustiers are often sized similar to the bra you wear. So if you buy a 40 bra, you would try on a 40 and a 42 in a bustier to see which fits better.
Lots more styles and colors, too. Some of these are just gorgeous and perfec for your work holiday party or for a very special New Year's Eve party.
Our Curvy Girl Lingerie store is in Willow Glen in San Jose. We carry sizes from size 14 to size 6x. Our address is 1535 Meridian Ave, San Jose, 95125 and our telephone number is 408-264-4227.
You can also like us on Facebook.  www.Facebook.com/CurvyGirlInc.


Comments
comments