This is Curvy Girl Lingerie guest blogger Jetta Rae.  Jetta is a trans queer woman who lives in Oakland and wears a garter belt as everyday casualwear.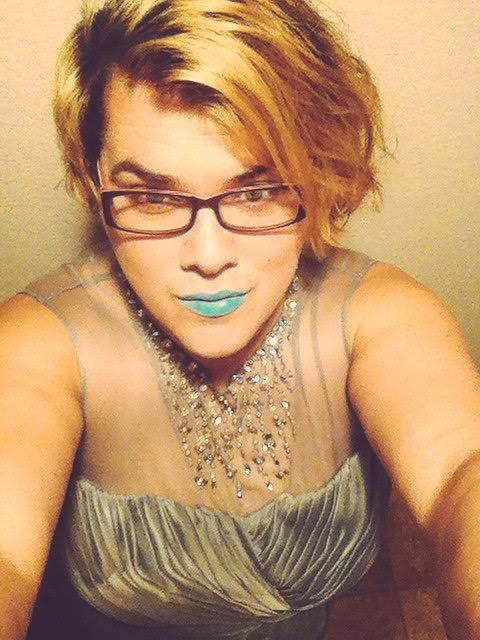 Imagine coming to a strange apartment in a strange part of town for a hot date with a hot stranger. Some of us have been there. Some of us have fantasized about it, sidestepping the radar of normalcy to become someone else — empowered or surrendered, sadistic or devoted, hungry or excessive. There's something we need to be or see in ourselves, something only unapologetic sleaze can help us realize.
You knock on the door, and she answers. Maybe you've only spoken before on Tinder, and you need a moment to quietly behold her plump, buxom figure shuddering beneath the lacy, see through teddy. Maybe you've been together a long time, and you see the glisten of her thick, freshly-shaved legs and imagine her pouty blood-red lipstick leaving marks where it counts and it sends a recharging surge through your skin. Maybe she twirls a pair of handcuffs with her finger. Or she's holding a sexy little number for you to wear. She takes you by the hand inside her private pleasure parlour (which may just be the bedroom of a friend on vacation) and you encounter the transformative power of sleaze.

Fulfilling our fantasies help us appreciate our bodies and the bodies of our partners — sleaze is important.
But however enthralling it can be for you, it may not always be so emancipating for your partner. When some women put away the babydoll and its matching stockings, the sleaze goes with it, tucked away for later use. But other women — fat women, trans women, and others who've had their identities and lived experienced reduced to a genre tag on a porn site — have a messier time with it. Their bodies, and the attraction other people have to it, are pathologized so that any sex with them is inherently seedy and sordid.
A fat woman's body is sometimes viewed as "just as kinky" as the paddle she spanks you with.
For many, this isn't hot, it's harmful. The stigma of objectification and its effects on people is real — what is a liberating sexual experience for some can be another disappointing brush with unkind social attitudes.
Fighting back against these stereotypes will take a lot of education and effort, on many fronts.
And while it may not seem as essential of a cause, we at Curvy Girl Lingerie believe very strongly in fighting back against the norm of cheap, poor-quality, expensive fashion aimed at plus-sized people.
Our fatphobic culture has, for many plus-sized people, muted their ability to express their sexual personalities. When you're limited in your options, and the companies selling them don't have the lived experience of being a fat woman trying to find something sleazy to wear for a hot date (or a burlesque show, or just around the house when their confidence needs a pick-me-up), being a fat woman in lingerie becomes another novelty sex costume, like "sexy fairy tale character" or "sexy maid or cop or someone else who does a job and is very unprofessional about it".
Every woman should be able to be sleazy of her own choice — and we do everything we can to support and enable that. As a business, and as enthusiasts of lingerie, we strive to achieve an accessible cross-section of "well-made" and "affordable". There is often a disparity here that many women shopping on their own, without the assistance of a professional, stumble into.
Just because a garment is sized up to your measurements doesn't mean it will support the weight of your body or, that it won't come apart after a day's worth of wear. To some who manufacture these clothes, "plus-size" is little more than a justification for a sort of premium pricing. The ignorance of women's bodies manifests itself into a sort of "fat woman tax".
It's disappointing when this happens to anyone; for fat women, this can be humiliating, even devastating to have the dream of sexual realization snap or tear or begin to pill once it's out of the box.
Fat women have long been overcharged and underappreciated. And as long as that is the norm, plus-sized bodies will remain an object of fetish, not desire, struggling to embody and exude a distinct sexual energy beyond the improprietous character assigned to it by society.
Your hot date should be sleazy because of what you did, not necessarily who you did it with.
A good first step to being sleazy (or helping someone you love be sleazy) is to get connected with an experienced lingerie and sex toy seller with a wealth of lived knowledge serving (and having) a hot, decadent, fat body that likes to dress up now and again.
Something skin-tight and lacey on a fat body shouldn't always be a perk or part of a date's "happy ending". Sometimes it should be the start of a story, a bold first sentence that says "this story is dirty, because I wanted it that way".


Comments
comments