Fireworks! Too cliche? Oh well. This dress fits so many different bodies I have to share it with a BANG!
I love starting this blog off with this one and there will be lots of fireworks in this article! If you love plus size bodies and plus size lingerie, this is going to be fun and on FIRE!
BUY the Jess Baby Doll in Black Right Here   $35
If you are new to Curvy Girl, we are the first ever Plus Size Lingerie Boutique in the country.  There may be one or two more out there now, but we have been open since October 2012.
We have a fabulous community on Facebook and on Instagram. Our main Facebook page has over 230,000 followers and you can link to that here. Or you can join our smaller Curvy Girl Public Community which has about 7,000 members for a more intimate experience. And, if you ever want to ask a question of me that you would like our community to answer, you can share it with me anonymously here:   www.CurvyGirlInc.com
I want you to have a SUPER SEXY New Year's Eve so here are some other ideas you might enjoy for an extra special New Year's Eve "in"   … or even just to wear for your lover after a fun night out!  Personally, I prefer a more intimate New Year's Eve celebration that ends in sex, but I know some of you love to go out and celebrate, too. Here are some fun ideas for looks you can wear in or out.
This two piece we call the Gina and you could absolutely wear this top out with a sexy pencil skirt or black pants. This items flies off or our shelves and we can barely keep it in stock.  Buy it here and use the code curvy155 for 15% off, too. GINA 2 Piece Lingerie from Curvy Girl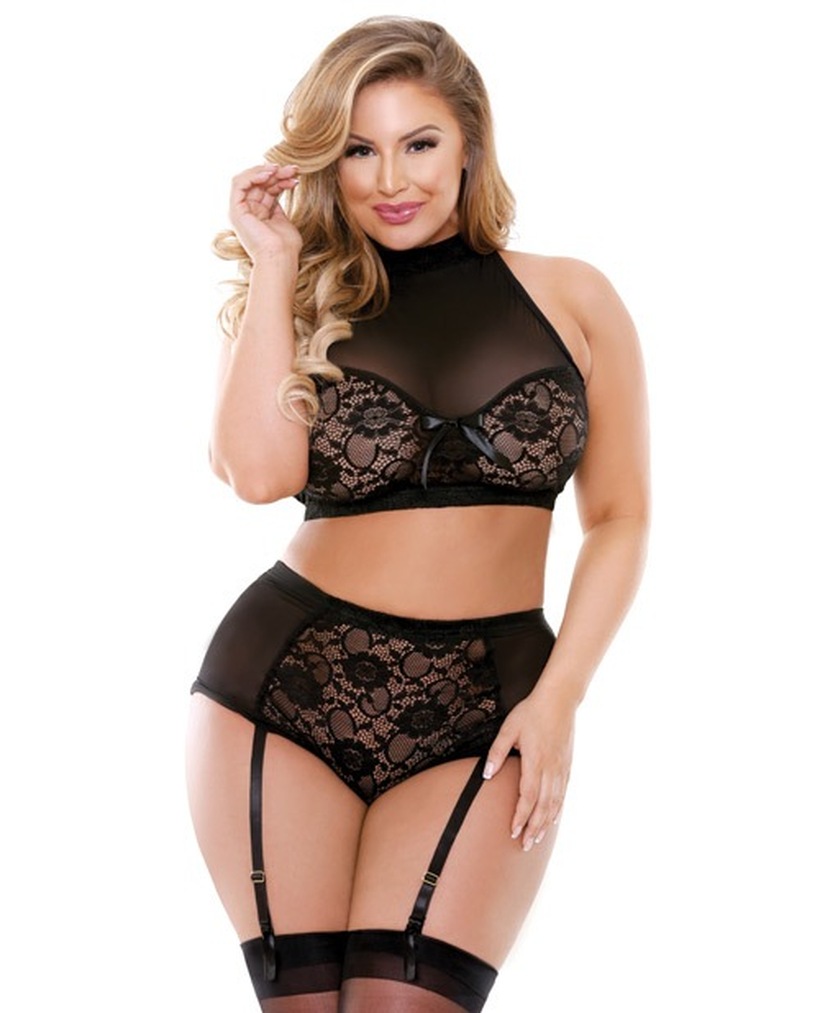 This two piece has the cutest panties that can act as a bit of a sexy hand cuff type of thing. Click over to our website and check out the BACK photo. So sexy!
This two piece / crop top style outfit is from the designer Fantasy Lingerie.  The collection is called Curvy by Fantasy. We are loving all of it and have lots of it on our NEW section of our website here:
The Sherry, the Cassie and the Amour are all from that same collection. Super sexy and very contemporary styles which makes me so happy! Fat girls do not have to settle for that awful "Grandma's Drapes" style any longer.
How about a bit of color on New Year's Eve ?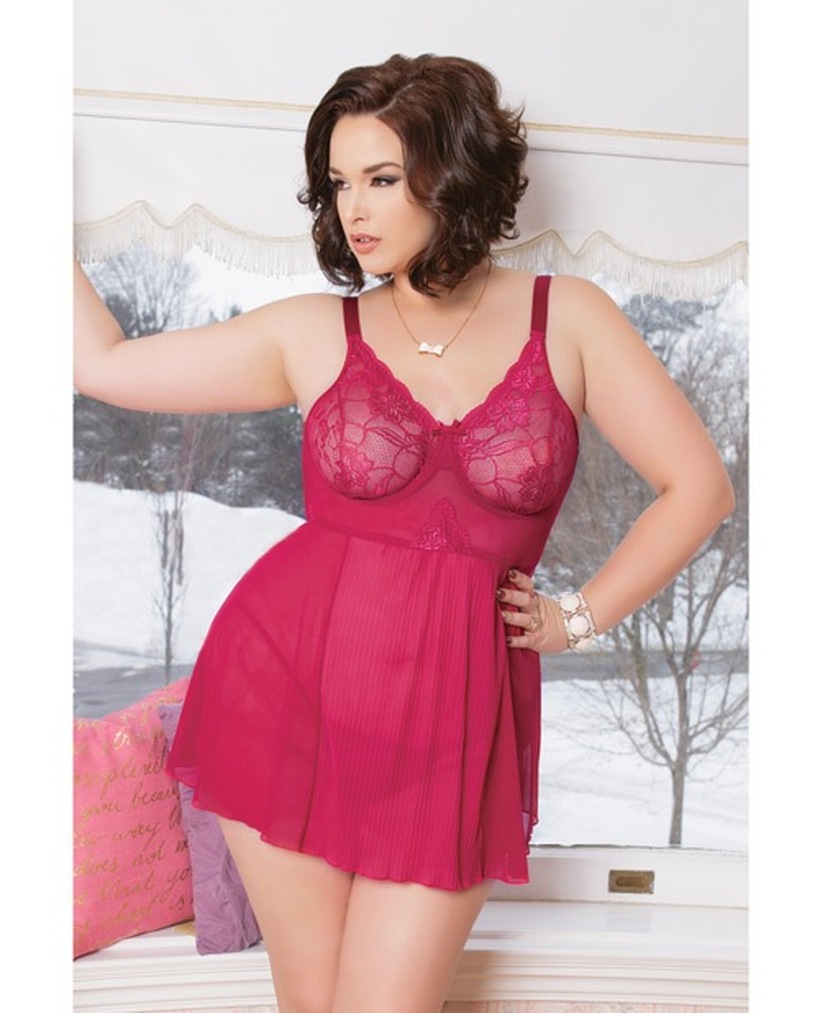 We call this the Melanie.
Do you love the color and style? I also personally ADORE her hair! Does come with a matching G-string, too.
You can also wear some white or black Kixies thigh highs with this for an extra special treat for both of you.
We have a new item that comes in two colors and additionally, it comes with a free pair of black sheer thigh highs, too!  We call it the Shoshi 2.0. And, the style is a Peek-a-boob style!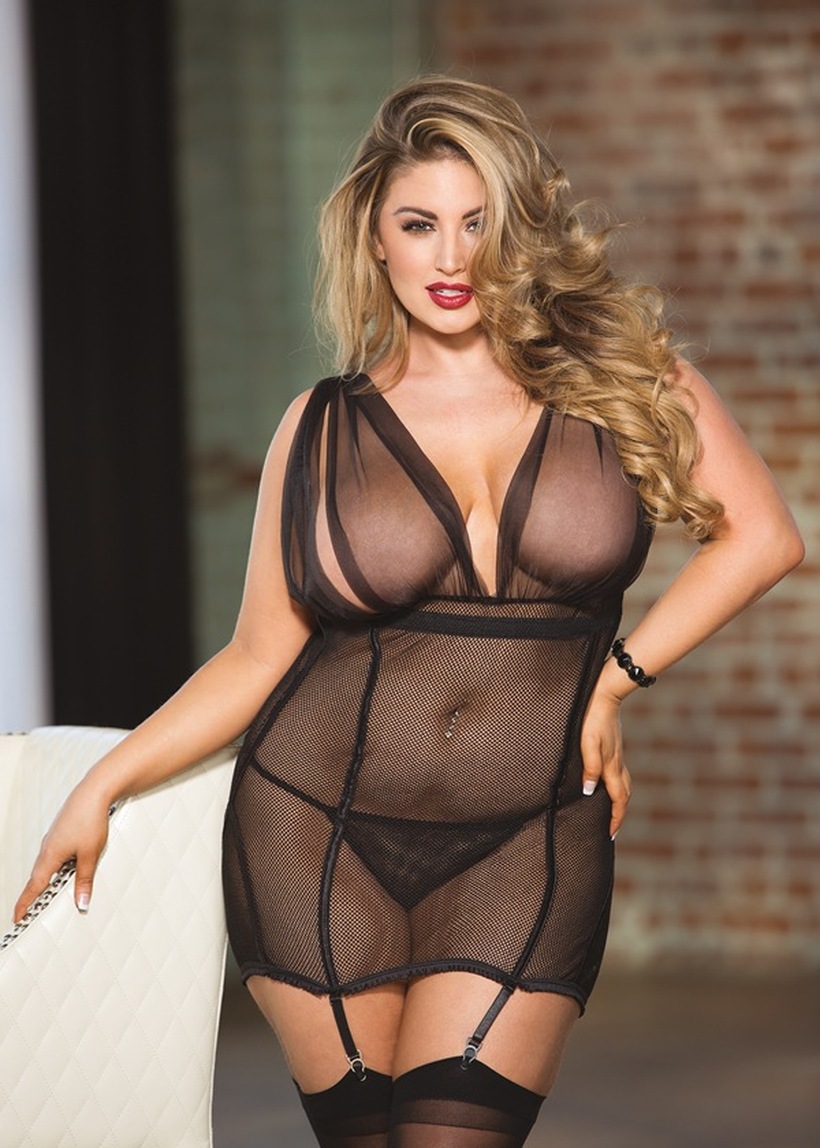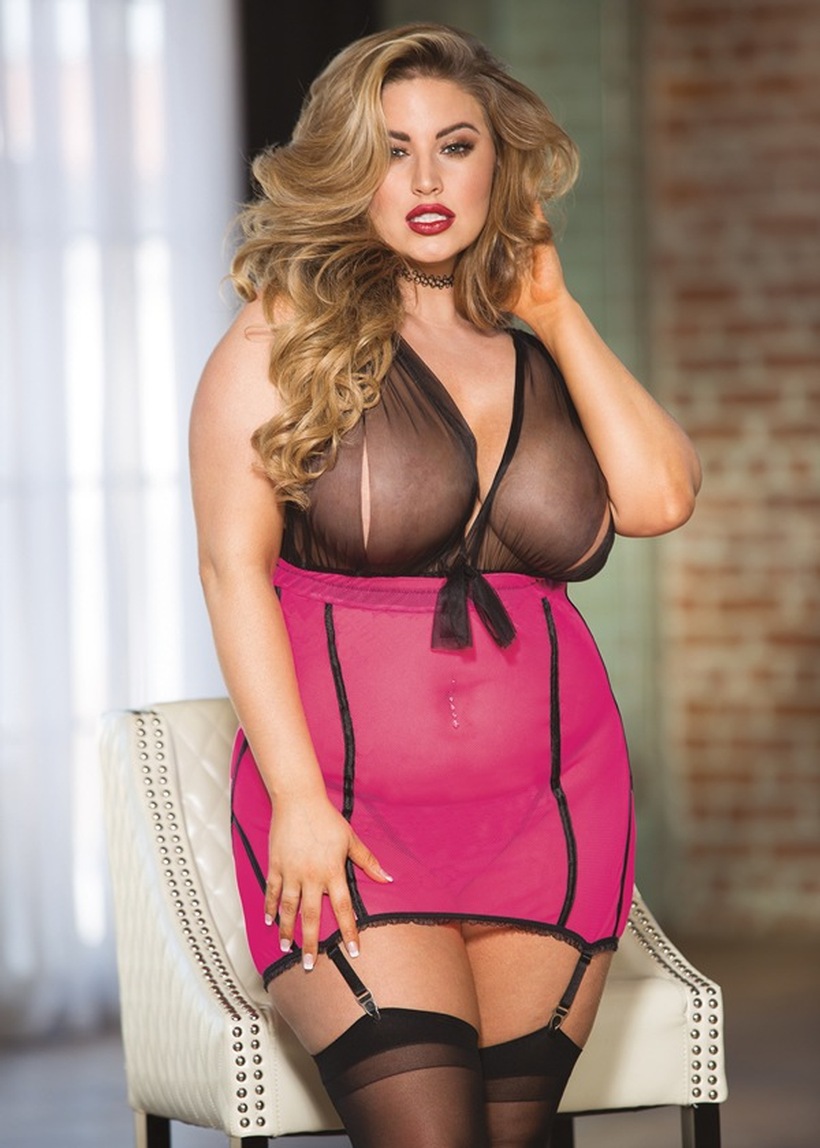 Yes, we noticed she has no nipples and it looks so alien, right? The lingerie designers know that some social media sites do not allow for female nipples, so they try to help us out.  Very un-sexy, I know.
Buy the black or pink chemise here!  $45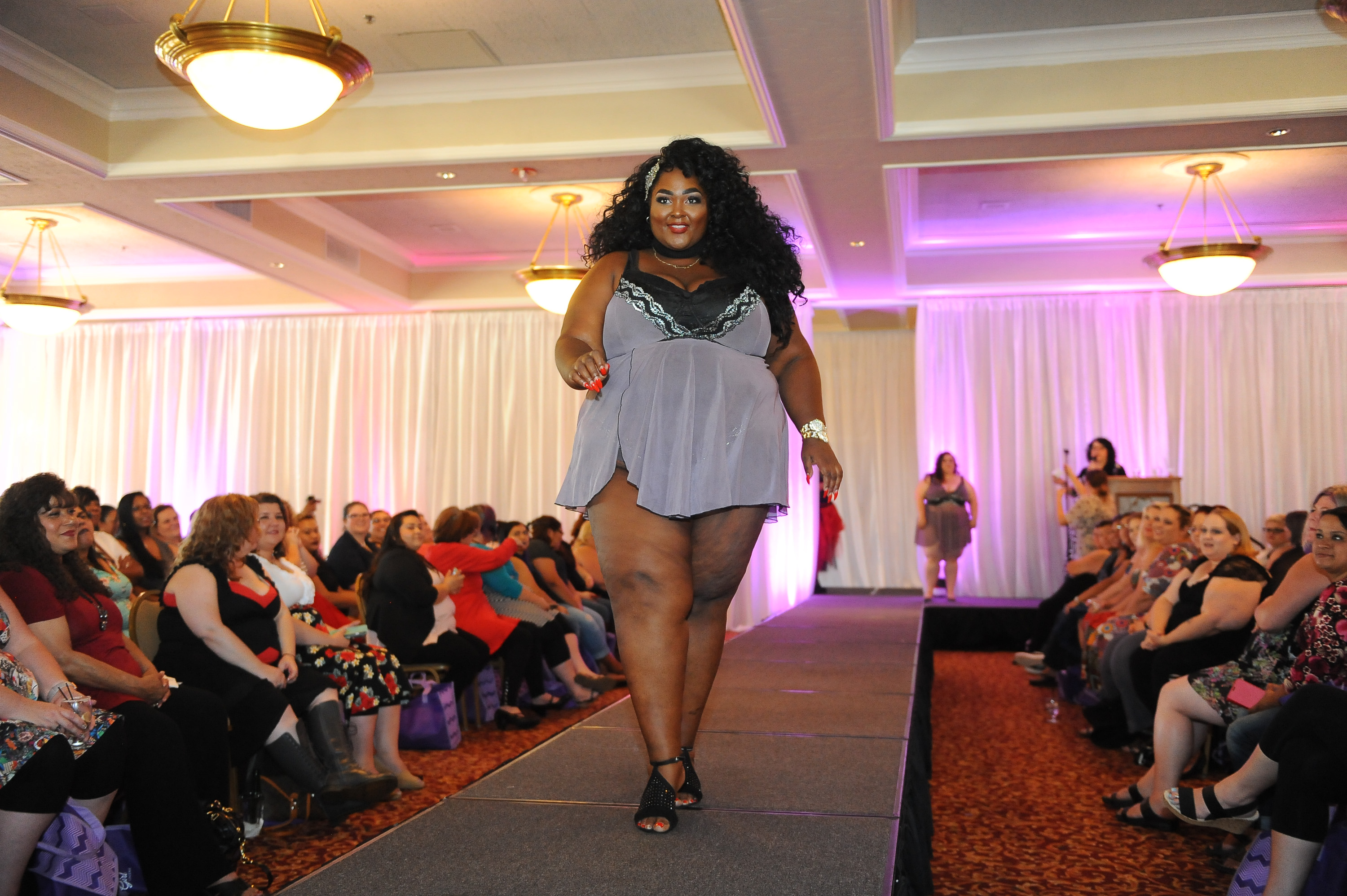 The always Sassy and Sexy "Saucye West" is modeling our "Saucye" baby doll in a 3/4x. Saucye is one of our Curvy Girl Cover Girls and she rocks our lingerie. She loves to represent for the Curvy Girls who are size 26/28/30 and she does it so well. We are so grateful for all of Saucye's support and she is one of our favorite models and Curvy Girl evangelists!
Buy the SAUCYE baby doll here if you want to rock your Lover's world on New Year's Eve.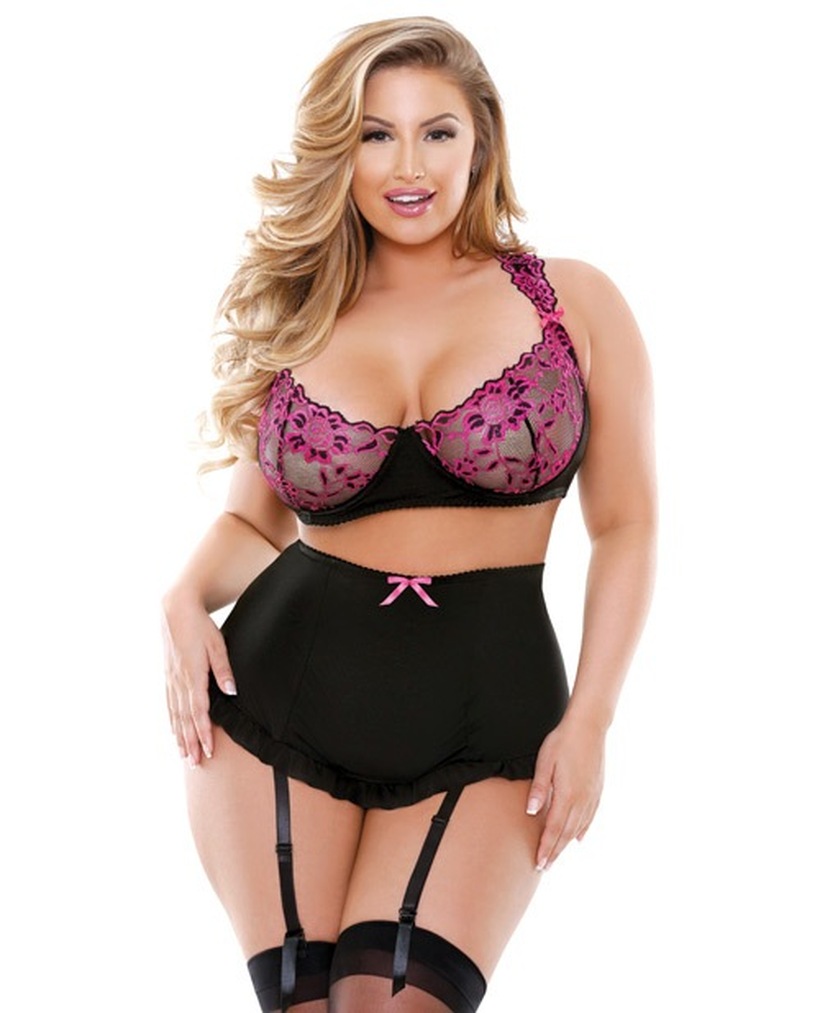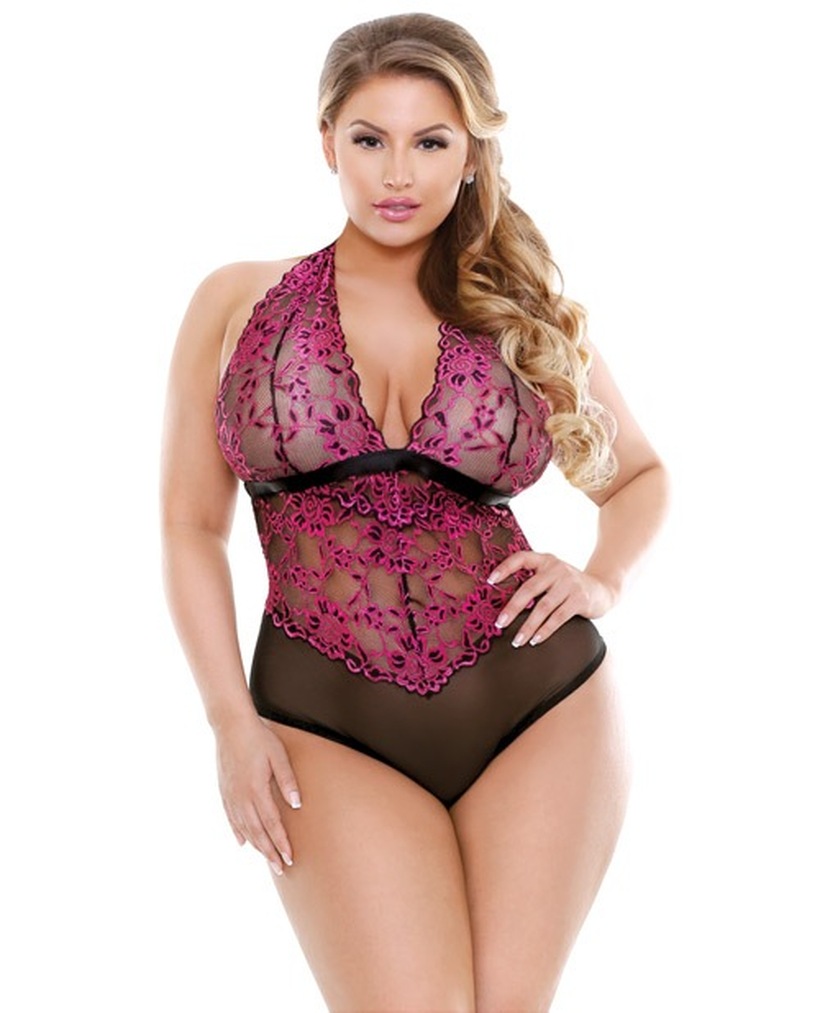 The Cassie two piece and the Sherry Teddy? Would you rock either one of these?
They are both so pretty and have that very romantic and delicate look.
You can find styles similar to these on our NEW tab on our website. Curvy by Fantasy is who makes these styles. Super sexy and fits a variety of size and body types. The thigh highs are sold separately, but you can also take the garters off and wear it without any thigh highs.  The bra does have some underwires, but not super supportive. Almost all of our lingerie is for hot sex, ya know.
Now, if you are truly planning to have a night in on New Year's Eve, you definitely have to check out some of our sex toys, too!  Do you have a fun couples vibe or a remote control vibe? SO MUCH FUN!
I really love the Lia Magic Wand and we sell lots and lots of them at the shop. And this Tantric Remote Control Vibe is also lovely and fun to wear when you go out to dinner or go out to a strip club.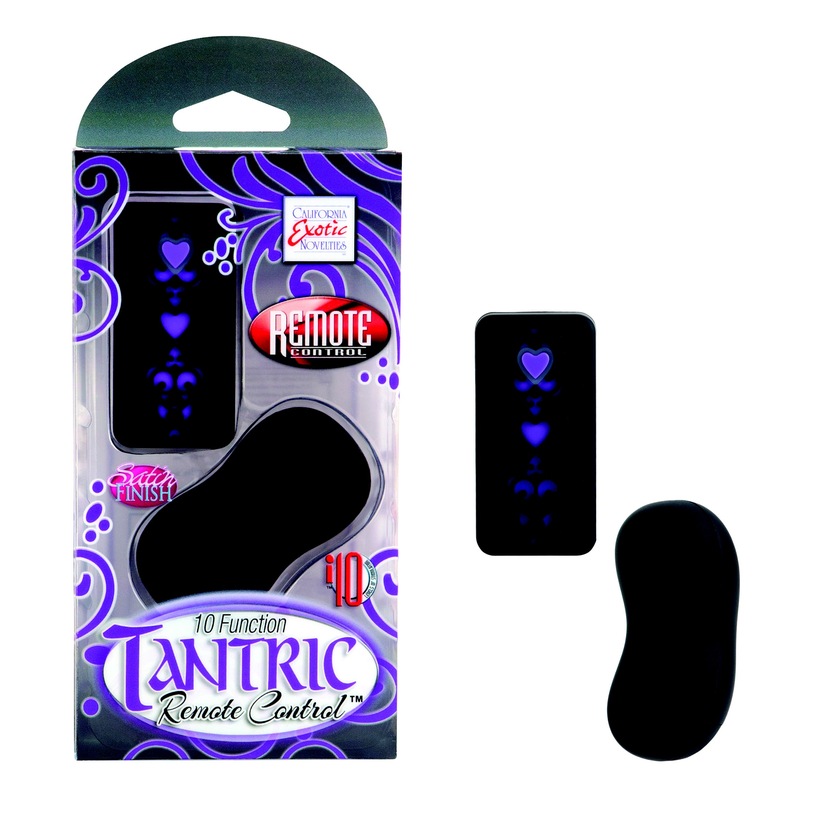 Ok, need any more ideas?  Email me. I will send you my best ideas for a super sexy New Years.  I think it's one of the best holidays and WHO needs Ryan Seacrest ?
Happy New Year, lovelies.  I am so grateful to each of you and I hope 2017 is good to all of us!
Are you getting our email newsletter?  Text us the word curvygirl (one word) to 22828.


Comments
comments