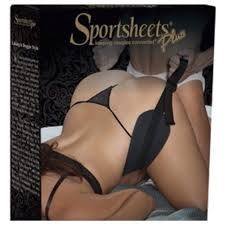 Finally! A doggy style strap made for us curvies! It has a very comfy pad, adjustable straps, and is great for other positions. It's great for deeper and better penetration. Who doesn't love that!?!?! Seriously, it's wonderful. Works for sizes 12 to 30 pant and the padding on the strap is 21 inches long and 5.5 inches wide. It adds leverage and intensity. If you are still skeptical, it has been known to give some a cry-gasm! YES! A CRY-GASM!! In case you might not know or haven't yet had a crygasm; it is when you've had such an intense and powerful orgasm it leaves you with tears. It is a very VERY very good thing.  For an unbiased review of the strap click the link to read what Scarlotte Cyn has to say about it. NOT SAFE FOR WORK

We sell the amazing doggy style strap here in-store, online, or give us a call and order it over the phone. We ship all over the world! Our location 1535 Meridian Ave, San Jose, CA 95125 is open 7 days a week. You can call us at (408) 264-4227 with any questions. We would be happy to assist.
Become a Curvy Girl insider by texting CURVYGIRL to 22828 to stay up to date with our upcoming events and killer deals
DON'T forget to follow us on Instagram @CurvyGirlLingerie, tweet with us on Twitter @Blissconnection, and like us on Facebook.
In case you missed it here is the link to the doggy style strap in our online store. Hope you enjoy it as much as we do.


Comments
comments