This past New Year's weekend I had the chance to have some fun with some products that I have not used before. I've had the SportSheets Sex Sling and the Eva by Dame for awhile, but finally had the chance to use the sex sling. The Eva is a long time"hands-free"  favorite!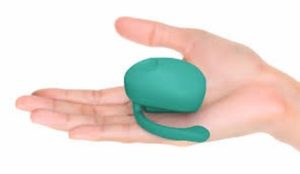 At Curvy Girl, we adore the Eva. It's $125 and worth every penny! I am a big fan of vibration on my clitoris,  especially during intercourse.  (If you know me, you already know this to be true!) But, who isn't, right?
The Eva has three speeds and is rechargeable which is fabulous. And, it is VERY strong for a rechargeable toy. I do love POWER when it comes to my clitoral stimulators. Some rechargeable toys are not enough vibration for me to have a climax. But, the Eva has plenty of power.
The Eva was designed to fit inside your labia and stay in place on top of our clitoris during sex or masturbation.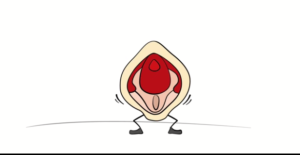 This illustration will help you to understand where it goes.
This is a super cool YOU TUBE video about their product and their story of how they came to create the Eva. (Think 3-D printers!)
Overall, I love this product and I love that it is very fat girl friendly. Everyone's body is different and all of our bodies and our fat settle in different places. For women who have fatter labia or have a fatter lower tummy, this vibe is very size friendly. The one thing I would love to see is a remote control for the Eva. I know I am not the only person who has suggested that. It would be super fun to give my lover the remote or to be able to access the three speeds of the Eva more easily. But, in my opinion, it is worth the $125! Easy to clean. Easy to charge up. Easy to figure out. It's a really well designed toy and the vibration is strong enough to give me a climax!
So, needless to say, my New Year's Eve was fabulous thank you to my Eva and my lover using the SportSheets Sex Sling with me, too. We have had it for awhile, but finally put it to use!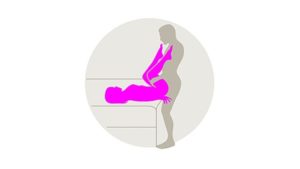 The sling looks like a bondage product, but it's actually not.  Basically, the pillow goes behind our neck and your feet loop into the handles. It's a cool way to hold your legs in the air for this "Edge of the Bed" position. (Photo credit Todd Ditwieler for Men's Journal.)
The "Edge of the Bed" position if great for a few things, IMHO. Deeper penetration, access to the clitoris (or Eva vibe on clit), access to the breasts and face to face sex. (Your lover LOVES to see your face.) For me, I also find it exciting to see his face he climaxex, too.  This position is also great for people who have back issues and the sling can REALLY help for couples who suffer with back problems. (In our case, his feet were flat on the ground. I was at the edge of the bed. But, I think we can find a few new ways to try it. I will keep you all posted.)
The sex sling also creates some interesting momentum and rhythm. (Well, it did for us.) But, it was all so incredibly comfortable all the way around. It was like my little feet were in a foot rest and it was just so fun and easy to use.  Obviously, it was a little funny at first, but I got through that, eventually.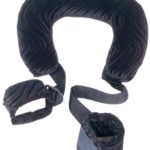 Putting the pillow behind my head and then putting a foot in each stirrup was a crack up. But, sex is supposed to be fun and funny! I have a large tummy, so it was a nice way to get around that, too.
I just love the SportSheets products. I love the plus size doggy style strap (Crygasm!) and their beginner's bondage. SportSheets makes fabulous products.  The sling held up to all of the pressure my large body put on the stirrups and the pillow. I checked everything afterwards and all of the seams were still complete in tact and didn't look like they had any wear on them. Of course, we only used it once, but sex can put some strain on products. But, as usual, SportSheets products are super high quality and they hold up to a lot of pressure.
Please share any questions you have here or call us at our boutique. I am happy to answer any questions about our lingerie or toys. (Just no creepy calls, please.) We love talking with our customers.
And, if you would like to become a Curvy Girl Insider, text us the word curvygirl to 22828 and that will add you to our newsletter.
Here is to a new year of LOTS of HOT SEX. I think kicking off New Year's Day with some hot sex is a good sign of things to come.
Follow us on Instagram:   http://instagram.com/CurvyGirlLingerie
bbw lingerie
lingerie for bbw
lingerie for chubby girls
lingerie for chubby women


Comments
comments