So excited that someone finally figured out the CHUB RUB solution! #nochubrub
I am so happy to share with you that we really love our Thigh Society samples.  Thigh Society was very kind to ship us some samples to test out at our lingerie fashion show Oct. 8th.  We had three pair and we put a pair on our models Dana and Sam.  I wore the third pair with my skirt I wore the day of the fashion show.
I wore the 3/4x version with the "ultra high rise with longer leg" style and they fit perfectly. I wear  size 26/28 pants when I buy from Lane Bryant to give you an idea of my substantial butt, tummy, hips and thighs. The material feels our dresses we sell from Pink Lipstick, so I knew as soon as I got to touch them, I would love them. I was delighted when I put them on, too.  I was on my feet for about 6 hours in my skirt and I felt almost naked.  NO pulling, tugging, so slippage, no chafing, no crazy crotch fire going on under my skirt!
My friend and Curvy Girl model, Sam Reyes, REALLY Loved them.  (On I.G. she is  @theladyrey ) She was jumping around, getting in poses on the ground, twerking on our runway and running around all day in her pair.  We had pair her  it with our sexy sleepshirt we ended up naming after her. That is Sam in the pics, too. Isn't she adorable? She is also the creator of  blog called Kale Chips and Fat Hips  and has the energy of 10 humans. She is also wearing our Kixies thigh highs with the sleepshirt and shorts in this pic. We knew she and Dana would be the perfect models to test out on our runway this year.  Thank you, Thigh Society!
Here is what Sam had to say about her Thigh Society Anti-Chafing shorts:
"I absolutely love these shorts!! The material is so soft, comfortable and breathable!!! They don't ride up and you don't feel like you are in a sausage casing (like a brand the rhymes planks). The best part is that they are not body shapers just anti chaffing shorts so you can still embrace all of you! They are by far the most comfortable anti chaffing shorts or product I have ever used!"
Our Curvy Girl Cover Girl Dana also wore the 3/4x shorts.  Dana is 4'11" tall and wears  22/24 at Lane Bryant and other retail stores. I ordered all of them in black when Thigh Society offered to send us some samples.  I thought it would be fun to pair them with the lingerie on the runway. Dana wore our "Jenn" corset and  light up tulle skirt and wore the Thigh Society shorts under her skirt. She looked beautiful.  I asked Dana via Facebook messenger what she thought about the shorts and she said "they are my most favorite."  Dana and I are good friends and she is always wearing a dress with bike shorts or other shapewear. So I knew she would be a fabulous tester. She pretty much does not go anywhere without some kind of short under her dresses. She is a lender and always has to dress professionally for her day job. (LOL. Her night time job is modeling for Curvy Girl!)  The breathability was key for Dana, too.
I know that when you get "free" stuff from a designer, they usually expect a positive blog. Thigh Society just sent us the three samples with no expectations.  We did not pay for them, but they were truly battle tested and these are truly honest reviews. These two women would tell me straight up if they did not work for them.  I liked my pair a lot, but I wear a dress or skirt like twice a year. Who knows, maybe I will wear dresses or skirts more often now that I have these shorts.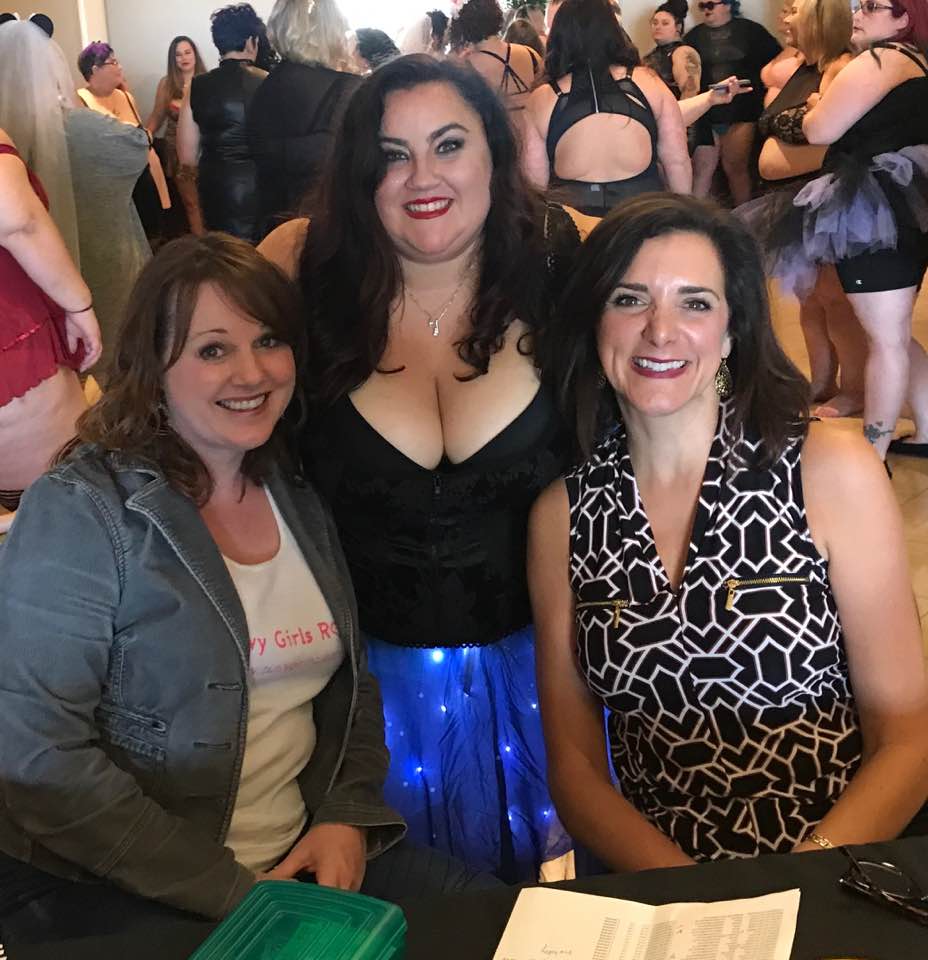 Dana in her light up skirt and her "Jenn" bustier from Curvy Girl.
Are you a part of our Curvy Girl community? Text us the word curvygirl to 22828 to become a  CG Insider.
Join our Facebook Community :  Curvy Girl Lingerie on Facebook or on Instagram here : Curvy Girl Lingerie on Instgram
And be sure to check out Thigh Society's website :   www.ThighSociety.com
#thighsociety  #chubrubnomore #nochubrub #antichafingshorts if you want to check out others who have tested out their shorts on IG or FB.


Comments
comments