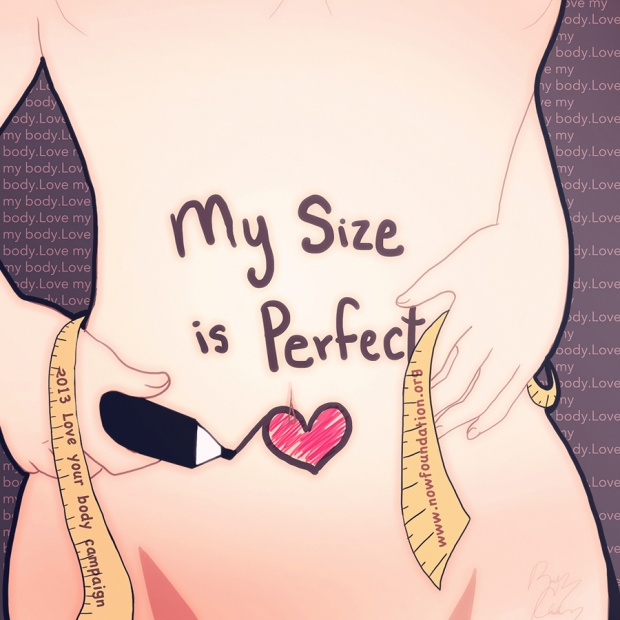 We want to see your 1 minute videos!
Please share the on this thread  pm Facebook with this image – in the comments section. 1 minute, please. They do not need to be perfect. Just authentically you.
(On my Facebook page/ thread here : LINK )
How did you come to love your body? How did you get where you are with your body. What is your relationship like with your body?  What do you think of the things your body can do for you? How did you get here?
Maybe you do not love your body? Do you? Tell us if you do or don't.  (Look -there Is a lot of pressure to love your fat body, but if you don't, that is ok, too. This is a process. We are all in this together.)
Is your confidence a 9 on a scale of 1 to 10. Or is your confidence a 1 on the scale of 1 to 10?
How do you deal with "bad body image" days?  (We all have them.)
What do you love about your body?
What makes you feel great?
Photo Credit: Love Your Body Campaign 2013 / www.NowFoundation.org )
What makes you feel sexy and confident?
Where does your confidence from? Literally, tell us where you find it and how you tap into it when you need it.
Who has been the most influential person in our life that has helped you to love your body?
Is there someone in your life that made you feel like shit about your body? You can call them out here if you like.
How long did it take to make peace with your body?
Answer any of these question in your video. Or, if you have another topic you want to cover, feel free to make a 1 minute video about that topic. Some of these videos will be used on my blog, Facebook and IG. So, if you post a video, remember you may see if somewhere else. I never tag anyone on my Curvy Girl page. (I actually cannot tag you from there.) But, keep in mind if your friends or family see it, they may tag you.
I am excited to see your beautiful faces and learn about you and where you are and how you got there. It's so unique for each of us. I think it will be so uplifting and rewarding to see all of your stories.
I am not sure about you, but a lot of people in my life still think possibly there is a thin woman inside me trying to get out. It's amazing to me how many people in my own life are still addicted to the diet industry. It's shocking to me sometimes. But, if you have an answer to the people who say things to you like "you would be so pretty if you lost some weight" or you have a friend trying to push their wraps or shakes for weight loss – tell them in our video!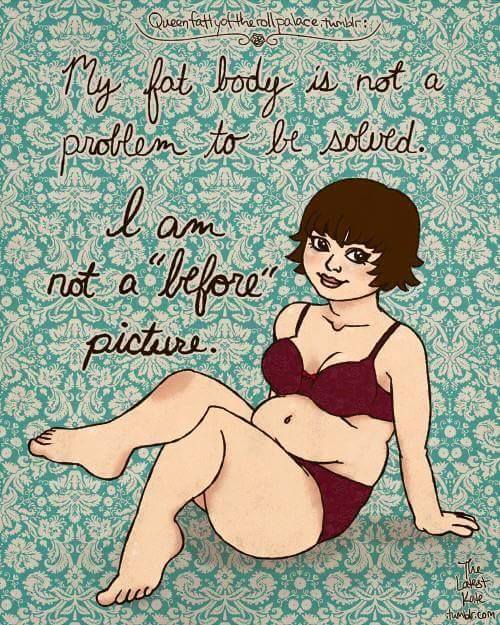 Photo Credit : QueenFattyofTheRollPalace.Tumbler.com
Be sure to join our Curvy Girl Commuinity
www.Facebook.com/CurvyGirlInc
or in ig.   http://Instagram.com/CurvyGirlLingerie
And if you would like to become a Curvy Girl Insider, text us the word curvygirl to 22828
Thank you!
Chrystal


Comments
comments