There is so much demand for stockings and thigh highs that fit plus size women. It's so hard to find super sexy pantyhose and stockings when you are a Curvy Girl. We have a small selection of thigh highs, body stockings and suspender stockings here at our Curvy Girl Lingerie store in Willow Glen.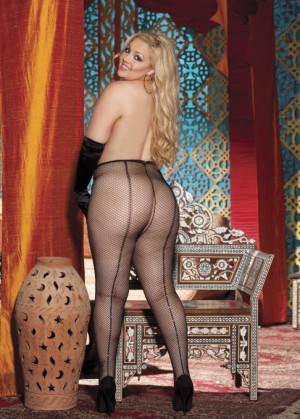 These back seam rhinestone fishnet stockings have been a big seller in the 4 short months we have been open. They are SUPER hot on. They fit women (or men) who are 5'6″ to 6'2″ tall and that weigh 175 to 275 lbs.
They are well made by Shirley of Hollywood and if you hand wash them and drip dry them I think you could probably wear them 5 to 10 times or more.  They suggest you hand wash warm separately. Because of the rhinestones, I would hand wash or wash in a lingerie bag to keep the rhinestones intact. They are $22 and if you want us to ship you some, just call us at the store at 408-264-4227. Shipping is $5.95. If you are having us ship them outside of CA we do not have to charge you sales tax. (And here is a blog with our best selling chemise, too.) You can buy it here using Paypal or a credit card, too.
Thanks and if you haven't already, come check us out on Facebook. Facebook.com/CurvyGirlInc
If you want to buy them online, you can buy them on my sex toy website BlissConnection. Here is the direct link to the stockings on my website:  http://www.blissconnection.com/shop.cfm/Curvy-Lingerie-%26-Shoes/Curvy-Stockings/RhinestoneStock/
But, remember, there are sex toys on that site so not safe for work.
Blissfully, Chrystal Bougon


Comments
comments