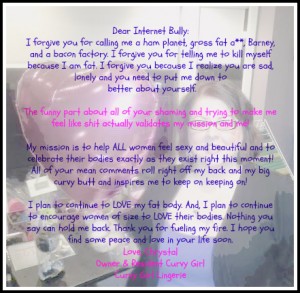 Or more to the point, can I really forgive the internet bullies that spend time shaming my customers, my Curvy Girl Cover Girls and me all day and all night?
The short answer is yes. I do forgive all of those anonymous people who like to create reddit websites and threads all about how much they hate me. I read their crap and honestly, it just makes me sad for them. (Or sad for you, if you are one of them. Realistically,  most likely a small percentage of you reading this are here to shame or bully me. You're here to use my words and twist them around and make me feel bad about my fat body. Have fun!)
The long answer is still, yes with a big but. (Ha ha.)  Not to be trite, but "forgiveness is the gift you give yourself." Since our last "Love Letter to a Bully Campaign" I have been told I would be "better off dead" and I should just kill myself.  I have been called a ham planet, land whale, fat pig, Barney, gross and a bacon factory. (Um, EFF YAH… sorry, but being a bacon factory would be RAD!) (Here's the big but I mentioned.)  But, the ironic thing is that all of that hate being thrown my way INSPIRES ME and helps me to JUMP OUT OF BED in the mornings knowing that the work I do is NEEDED and important. The world needs MORE love and MORE acceptance and MORE celebration of bodies of all shapes and sizes. And that is what I do!
My friend, Jen McLellan, of Plus Size Birth said it best:
"Over time I've become less and less enraged by trolls.  I actually feel really sorry for them.  I spend my time behind the keyboard empowering women and it's incredibly rewarding.  I can't imagine how much low self-esteem it requires for someone to receive satisfaction by belittling people.  Bullies type things, behind the safety of their keyboard, that they'd never say to someone's face (or at least I'd hope not).  It's cowardice and I'm unable to comprehend how hurting others can be pleasurable.  Shaming people has real consequences and words can be damaging."